XR reshapes the ways we interact by blending our real and digital worlds. As a next-generation mobile computing platform, XR revolutionizes not only how we live and play, but also how we work and learn.
For your modern workplace, XR creates a multi-dimensional experience that adds inclusive and satisfying ways to interact with teammates, partners, and customers.
And the best part? XR's old barriers to entry are quickly fading and immersive technology continues to increase in availability. It's easier than ever to utilize XR for your products, services, platforms, tools, and use cases.
SHI helps you leverage XR's unique capabilities to better connect with your audience, meet shifting expectations, and satisfy increased demands for innovative, immersive, and interactive user experiences.
Simplify how you procure and manage your ideal XR solution.
When you deliver immersive content, you build richer experiences, deeper interactions, and stronger customer relationships. To do this, you need tools that can develop new content while still leveraging your existing assets and data. And to fully realize your immersive experiences, you need industry-leading hardware and user-centric XR platforms.
SHI helps you identify the technology required to make XR a realistic, immersive, and secure experience for your unique use cases. And when it's time to deploy your solution, we simplify procurement and management processes throughout the entire lifecycle – from design to licensing and maintenance.
Plan for the future with SHI's modern workplace experts.
Your users want to streamline their day-to-day workflows and better integrate immersive products into their core functions.
With SHI, you can use XR to improve business efficiency and safety, as well as streamline workflows and manage complex tasks in your business environment. SHI's modern workplace experts remain on the bleeding edge of technological innovation; with our help, you can effortlessly plan for the future.
No matter your current state, we can work with you to define needs and create an actionable roadmap for building and deploying the XR solution that best achieves your goals.
Next-gen XR solutions don't require next-level costs.
As you leverage XR for training, maintaining remote business operations, and creating intuitive workplaces, your efforts can result in reduced costs and increased efficiencies.
And when you work with SHI, it's easy to fully realize your cost-savings potential. Our vendor-neutral services provide support across innovative XR devices and are fully interoperable with leading XR software platforms, helping you build optimized, consistent experiences.
We offer leasing, rental, and utility-based purchase plans for top XR hardware and provide flexible licensing for the software solutions you need.
Design the best XR solution for your needs.
When innovative technologies like XR enter the industry, it's easy to get lost defining your use cases, analyzing ROI, or outlining the skill gaps stopping your implementation.
With SHI's modern workplace expertise, you can shift toward XR and reduce your operational complexities by choosing the right solution – minus the headaches.
When selecting the hardware and software for your XR solution, conduct pilots and proofs of concept through our Customer Innovation Center (CIC) and SHI Labs. Our specialists will work with you to create and run the tests you need to properly scope, setup, and manage your best-fit solution.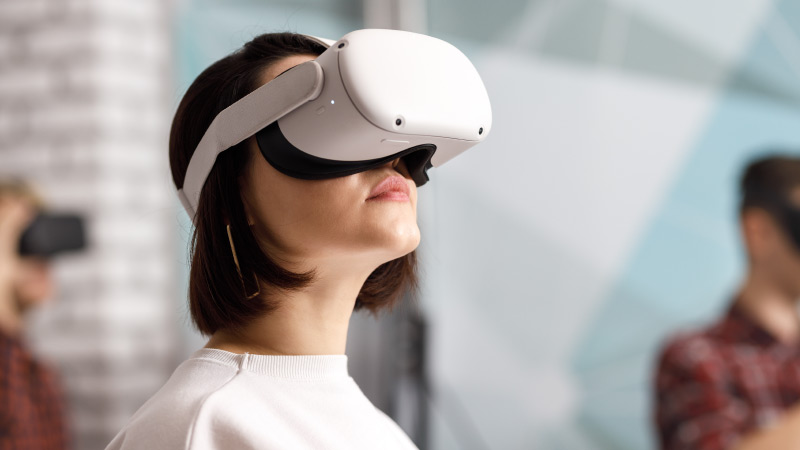 Transform your workplace with SHI's extended reality services
Leverage our expertise and deep industry relationships for securing, managing, and successfully deploying XR technologies.















Gain valuable insight from SHI's modern workplace experts.