Your Azure advantage – fully realized.
End-to-end solutions and expertise to maximize the impact of your next Azure project.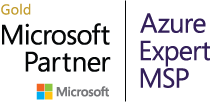 When it comes to Microsoft Azure, we mean business. Your business.
When you're talking about the cloud, it's never just about technology. It's about changing the way your business works and goes to market. From migrating workloads to modernizing your applications, our Azure solutions and services are designed to bring real change to your organization, at every step.
Why consider Azure?

Streamline cloud migration
Looking to lift-and-shift traditional applications or move legacy infrastructure to the cloud? We help you get there as quickly and efficiently as possible with our planning, licensing and migration service, supported by a rigorous cloud adoption framework and best practices.
Right-size cloud spending, from the start
Simplify cloud adoption, migration and billing
Take full advantage of existing investments

Optimize cloud costs and impact
As your cloud footprint expands, so do the complexities. We enable you to optimize and increase the value of the cloud, using data-driven insights, powerful tools and expertise.
Accelerate cost savings in the cloud
Improve visibility, insight and control
Simplify IT management and security

Business and workplace transformation
Transform the way your business works and serves end users and customers. We enable you to unleash the full transformative power of the Azure ecosystem, using DevOps, ever-green platforms and advanced services, such as cloud security, identity and automation.
Overcome DevOps adoption hurdles
Speed time to market and transform services
Leverage automation, artificial intelligence and emerging technologies
Microsoft Cloud Solution Provider (CSP)
Whether you're already leveraging the cloud or just getting started, SHI Support Services for Microsoft CSP are designed to guide you through managing your Microsoft cloud solution, from account setup to 24x7 support – and everything in between.
Ready to get started with SHI Support Services for Microsoft CSP?