About SentinelOne
SentinelOne's cybersecurity solution encompasses AI-powered prevention, detection, response, and hunting across endpoints, containers, cloud workloads, and IoT devices in a single autonomous XDR platform.
Partnership with SHI
Finding the balance between employee experience and IT compliancy is key to increasing productivity. Securing a remote and hybrid work environment requires a holistic security strategy that is effective without being overly restrictive. Together, SHI and SentinelOne deliver on this promise. Contact SHI
Supercharge. Fortify. Automate.
Extend protection from the endpoint to beyond with unfettered visibility, proven protection, and unparalleled response. Discover the power of autonomous with Singularity XDR. Take the next leap in the evolution of EDR. Extend beyond the endpoint with end-to-end enterprise visibility, protection, and response.
Visibility that Doesn't Blink - Superhuman visibility across every corner of the enterprise. Autonomously ingest, connect, and query petabytes of data in real-time. Singularity XDR builds complete stories with machines — not big teams.
Bulletproof Defense - Military-grade protection that's on-duty 24/7/365. Autonomously repel cyberattacks in real-time with AI. Singularity XDR performs at faster speeds and higher accuracy than humanly possible.
Respond. Automate. Repeat - The industry's first and only cybersecurity autonomous technology. Automatically respond, remediate, and reverse without a single click. Singularity XDR resolves alerts so you don't have to – at machine speed.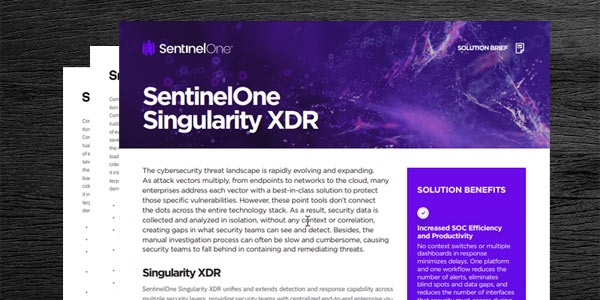 XDR - Extended detection and response
Take the next leap in the evolution of XDR. Extend beyond the endpoint with end-to-end enterprise visibility, protection, and response.
See - Maximize visibility across every corner of the enterprise
Protect - Protection coverage with unrivaled speed, coverage, and efficiency
Resolve - Automate response across the entire connected security ecosystem
Singularity Platform Packages
Singularity platform product bundles
The SentinelOne Singularity security platform empowers SOC & IT Operations teams with a more efficient way to protect information assets against today's sophisticated threats.
Singularity delivers differentiated endpoint protection, endpoint detection and response, IoT security, cloud security, and IT operations capabilities - consolidating multiple existing technologies into one solution.
We offer autonomous, resource-efficient "Sentinel" agents for Windows, Mac, Linux, and Kubernetes, supporting a variety of form factors including physical, virtual, VDI, customer data centers, hybrid data centers, and cloud service providers. Sentinels are managed via our globally available multi-tenant SaaS, designed for ease-of-use and flexible management to meet your requirements.
Our Vigilance managed detection and response (MDR) services subscription is available to back your security organization 24x7. SentinelOne Core, Control, and Complete are our tiered product offerings. Each product bundle builds on the one below it.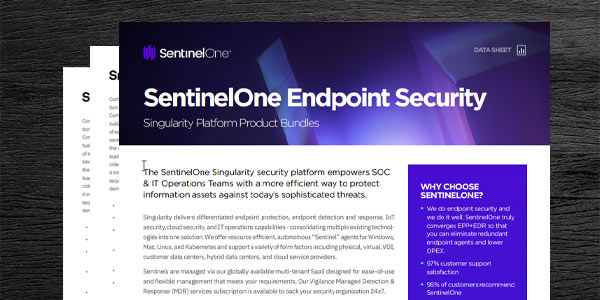 Learn more about Singularity EDR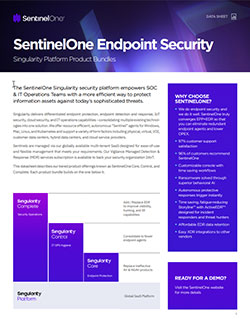 SentinelOne Endpoint Security solution brief
The SentinelOne Singularity security platform empowers SOC and IT Operations Teams with a more efficient way to protect information assets against today's sophisticated threats.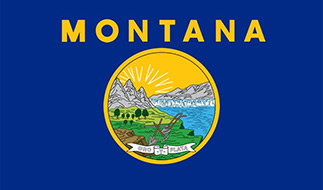 State of Montana case study
Watch how SentinelOne empowers the State of Montana to proactively stay secure and benefit from the breadth of the Singularity platform.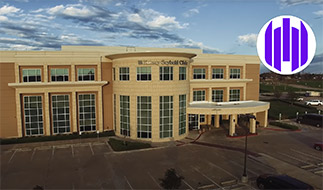 Kelsey Seybold Clinic case study
"Protected care is what we're about" - Kelsey-Seybold Clinic chooses SentinelOne over McAfee, Trend Micro, CrowdStrike, and Cylance Inc.
Singularity Cloud Workload
Simplifying security of cloud VMs and containers
Automated. Agile. Secure. Your hybrid cloud footprint is complex. Cloud workload protection shouldn't be.
Cloud VM security – Real-time, runtime, every time. Bring purpose-built autonomous, enterprise-grade EPP and EDR to VMs spanning AWS, Azure, and Google Cloud.
Runtime container security - Automated, frictionless, scalable deployment. Unmatched protection, detection, and response for EKS, AKS, GKE, and self-managed Kubernetes.
ONE multi-cloud console - A single console managing security for all cloud infrastructure, user endpoints, and IoT devices.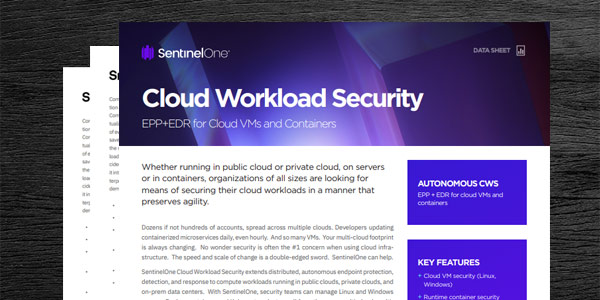 SentinelOne leads in the latest MITRE ATT&CK Evaluation with 100% prevention.
Released March 31, 2022, the MITRE Engenuity ATT&CK® Evaluations covered 30 vendors and emulated the Wizard Spider and Sandworm threat groups. For the third year in a row, SentinelOne leads the test which has become widely accepted as the gold-standard test for EDR capabilities.
Leading analytic coverage
Leading visibility
Zero detection delays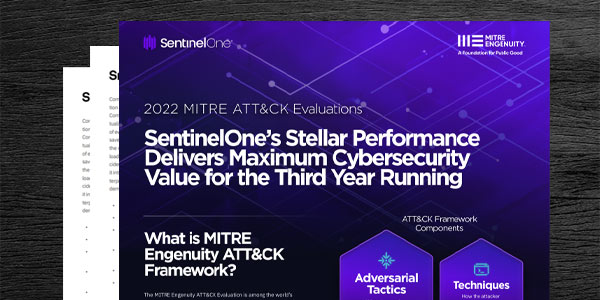 Combat the rising tide of mobile threats with on-device, adaptive, real-time mobile defense
AI-powered full-device protection, 24/7. No cloud connectivity reliance.
Effective & Efficient - AI-powered protection, No Cloud Required, Easy on batteries
Mobile Visibility – Vital device visibility
Privacy by Design – Balances data privacy with security
MDM Optional – works with leading MDMs, works without an MDM
All Major Platforms – iOS, Android, Chrome OS
Easy to Manage – Zero Touch Deployment, Maximum Protection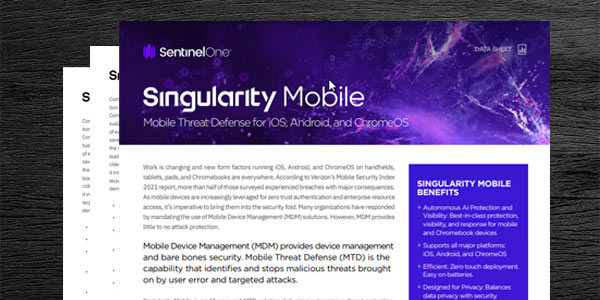 Autonomous AI protection & visibility
AI-powered full-device protection, 24/7. No cloud connectivity reliance.
Detects and protects against zero-day mobile malware and phishing attacks with powerful behavioral models
Eliminates risks from jailbroken and rooted devices
Protects against MITM attacks including rogue wireless and secure communications tampering
Continually learns to tackle tomorrow's threats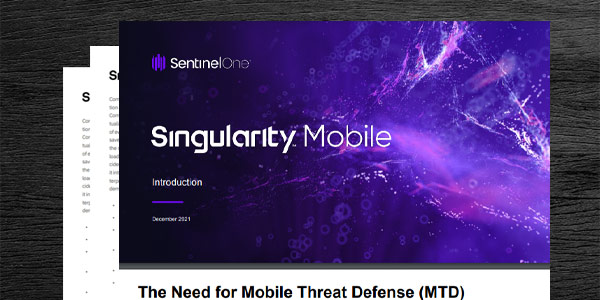 Real-time identity threat detection and response
Singularity Identity™ threat detection and response (ITDR), defends Active Directory and Azure AD domain controllers and domain-joined endpoints in real time from adversaries aiming to gain privilege and move covertly.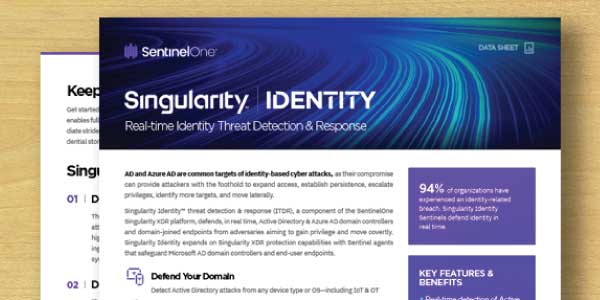 Engage the adversary directly
Singularity™ Hologram is network-based threat deception that lures covert threat actors and insiders into engaging and revealing themselves.
Singularity Hologram decoys stand at the ready, waiting to be engaged by adversaries and insiders. The resulting telemetry supports investigations and contributes to adversary intelligence.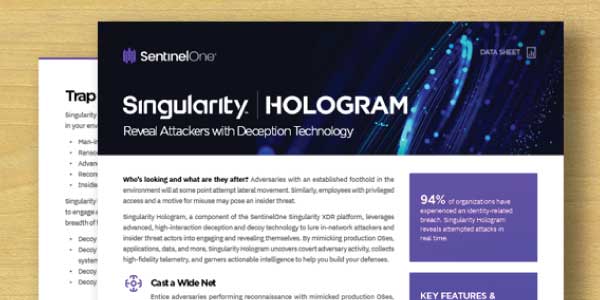 Cloud-Delivered Network Visibility & Control
The proliferation of IoT use in business, open BYOD policies, and a global remote workforce exponentially increases the quantity of unmanaged IP-enabled devices directly neighboring enterprise infrastructure. One compromised printer can become an adversary's home base for reconnaissance, lateral movement, and a breach.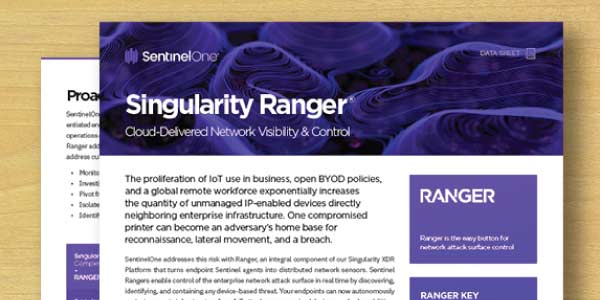 Singularity Ranger AD Accessor
Ranger® AD Assessor, a component of the SentinelOne Singularity XDR platform, is an identity configuration assessment solution that identifies misconfigurations, vulnerabilities, and active threats targeting Active Directory (AD) and Azure AD.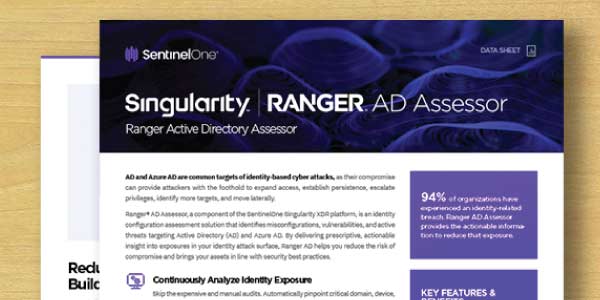 Ready to Learn More?
Contact us to discuss SentinelOne solutions for your organization.