The State of Zero Trust Security: 2021 Report
With the rise in remote work, Zero Trust security has grown. And that's not going to change anytime soon. 82% of company leaders plan to allow at least partial remote work after the pandemic, and 47% will allow employees to permanently work from home full-time.
At the same time, identity-based attacks skyrocketed last year. This means that developing a Zero Trust security strategy that gives the right people access to the right resources at the right time is critical.
Get the State of Zero Trust Security report to learn how organizations around the world are approaching Zero Trust today and where they're headed over the next 12-18 months.
Download your copy of the report to learn:
The top five Zero Trust security takeaways
How your peers are progressing along the Zero Trust security maturity curve
The sophisticated strategies 40% of companies are prioritizing now
The World Has Changed. Okta is Your Modern, Agile Single Sign-on Solution.
Reliable single sign-on service that integrates with all your web and mobile apps. An SSO application with a full-featured federation engine and flexible access policy.
Adaptive Multi-Factor Authentication
Secure multi-factor authentication solution because 80% of security breaches involve compromised passwords.
Whether you're looking for a two-factor authentication solution to meet compliance targets, or building a full MFA security framework, Okta is the adaptive multi-factor authentication vendor that has you covered.
Passwordless Authentication
Move Beyond Passwords
Eliminate the risk of credential attacks and deliver a delightful user experience using passwordless authentication.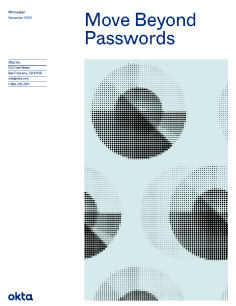 Move Beyond Passwords
In this whitepaper, Okta explores the case for going passwordless for both customer and employee authentication, and map out steps that organizations can take on their journey to true password less authentication.
Automate all lifecycles with any business process for external and internal users.
Is managing your users' lifecycles challenging? Do you rely on scripts, manual processes and tickets? In this session we cover the basics of lifecycle management and discuss pertinent features in the Okta Lifecycle Management product. Specifically, we address how to integrate authoritative sources and automate onboarding/offboarding. We'll show a demo of Lifecycle Management and hear from Merz Pharma about how they use the technology.
Four Common Stages of Lifecycle Management Maturity
Okta found that their most successful customers tend to incrementally modernize identity processes in a staged manner, over time. In this way, rather than trying to configure every possible lifecycle management feature all at once, you can quickly realize initial time savings and achieve fast ROI. In this infographic you will learn about the four primary areas of Lifecycle Management (LCM) that often confound IT and security teams: managing identity data, identity lifecycle processes, access grants, and audits and compliance.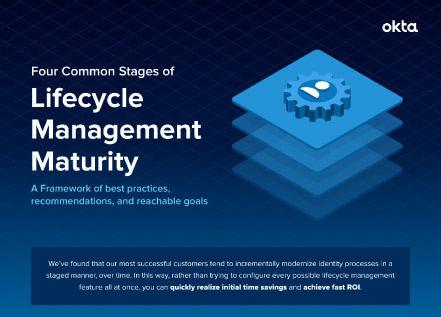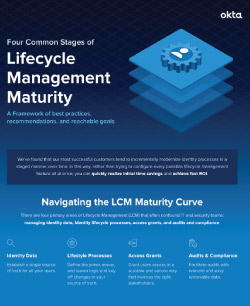 Four Common Stages of Lifecycle Maturity
A framework of best practices, recommendations and reachable goals.
Automate identity and access management across dynamic server fleets at any scale
With operations more automated than ever, the pace of innovation keeps accelerating. But as the infrastructure landscape changes, the security landscape changes too.
Businesses at Work: powered by Okta
Welcome to the eighth annual Businesses at Work report, an in-depth look into the applications that workforces use to stay productive around the world. As organizations uncover the magic recipe for "work from anywhere," hackers train their sights on an easy target.
Hold onto your seats—this wild ride is getting even more exciting.
About Okta
Okta is the leading independent provider of identity for the enterprise. The Okta Identity Cloud connects and protects many of the world's largest enterprises.
Partnership with SHI
SHI, an Elite Partner for Okta. SHI has a complete identity practice, and partners with Okta to provide identity solutions for all customers. Okta is the world's most secure and reliable identity product and has the vision to enable any organization to use any technology. Contact SHI
Ready to Learn More?
Contact us to discuss Okta solutions for your organization.