About NVIDIA
NVIDIA's GPU sparked the PC gaming market. Our pioneering work in accelerated computing — a supercharged form of computing at the intersection of computer graphics, high performance computing, and AI — is reshaping trillion-dollar industries, including transportation, healthcare, manufacturing, and fueling the growth of many others.
Partnership with SHI
Drawing on years of experience supporting some of the most complex business and technology challenges, SHI will help you select the right NVIDIA solutions to meet your goals and ensure your investment gives you the best return at the right cost.
NVIDIA data center solutions
Built for the unique demands of AI and more
The universal system for AI infrastructure
The NVIDIA DGX™ Systems are purpose-built to meet the demands of Enterprise AI and data science, delivering the fastest start in AI development, effortless productivity, and revolutionary performance - for insights in hours instead of months. End-to-end AI development productivity and performance is enabled by the NVIDIA DGX-Ready Software powering each DGX system.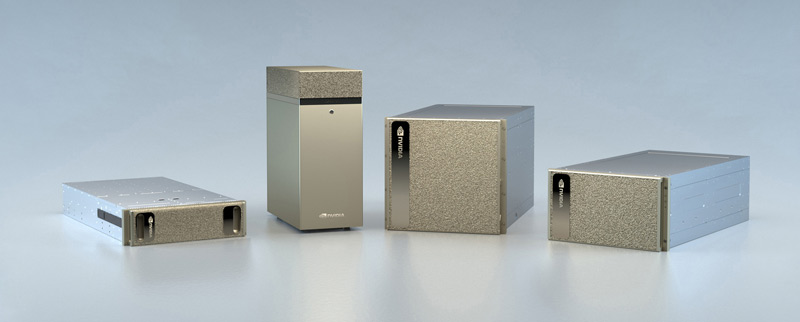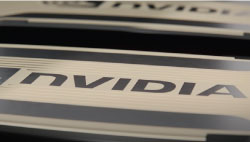 Introducing NVIDIA DGX A100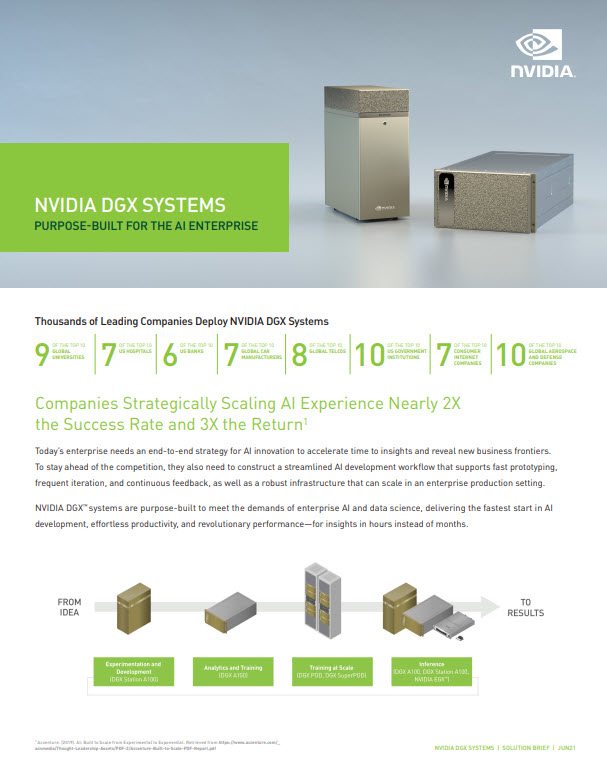 NVIDIA DGX™ Systems
Purpose-built for the AI enterprise
Enabling the enterprise accelerated data center
NVIDIA-Certified Systems bring together NVIDIA GPUs and NVIDIA high-speed, secure networking to systems from leading partners in configurations validated for optimum performance, reliability, and scale for a diverse range of workloads. A wide variety of system types are available, including popular data center and edge server models, as well as desktop and mobile workstations.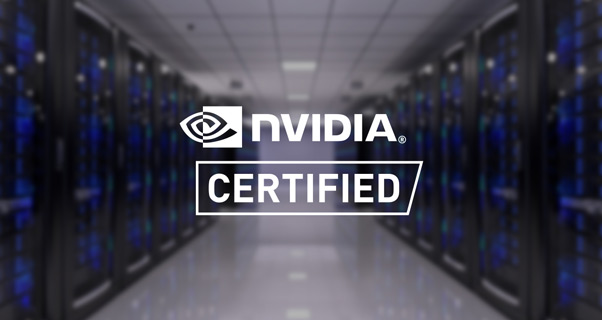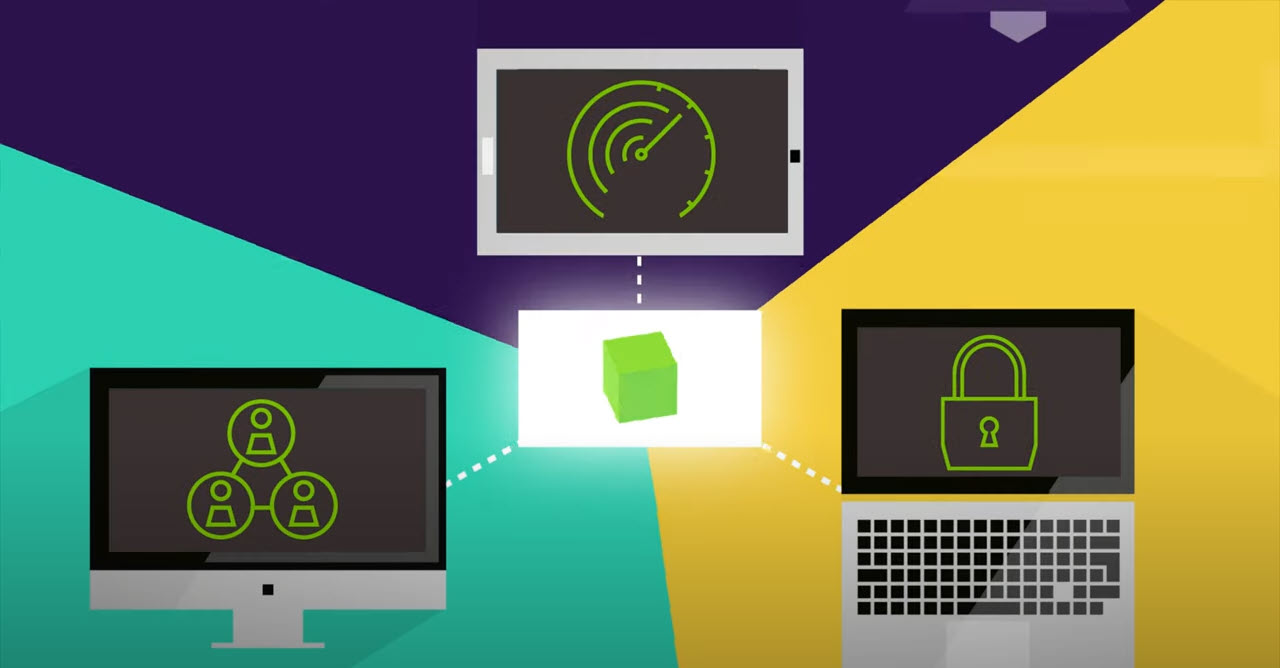 Enabling the Secure, Hybrid Accelerated Data Center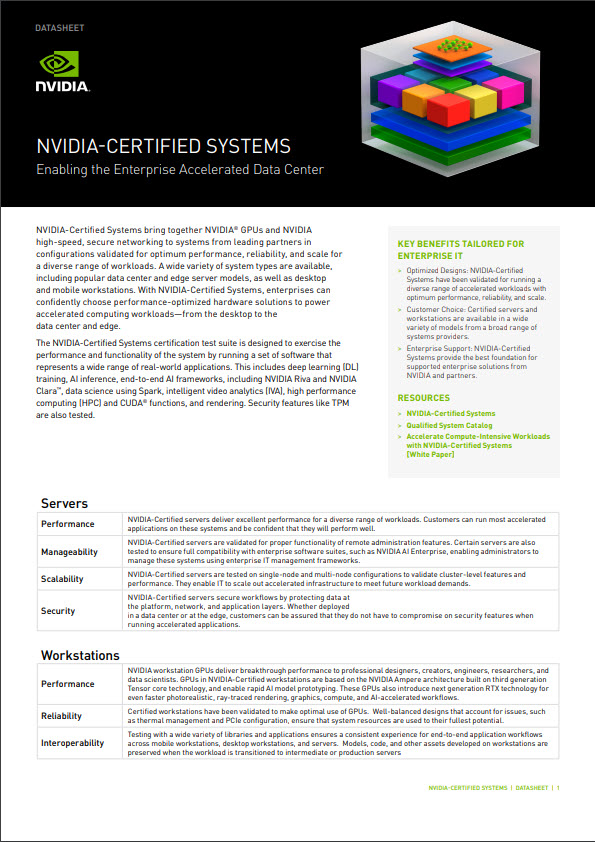 NVIDIA-Certified Systems
Enabling the Enterprise Accelerated Data Center.
Purpose- built for the convergence of simulation, data analytics, and AI
The NVIDIA HGX™ AI supercomputing platform brings together the full power of NVIDIA GPUs, NVIDIA® NVLink®, NVIDIA InfiniBand networking, and a fully optimized NVIDIA AI and HPC software stack from the NVIDIA NGC™ catalog to provide peak application performance. With its end-to-end performance and flexibility, NVIDIA HGX enables researchers and scientists to combine simulation, data analytics, and AI to drive scientific progress.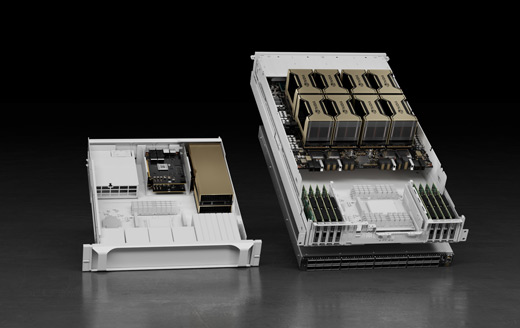 NVIDIA HGX A100
The most powerful end-to-end AI supercomputing platform
Virtualization and software solutions
Modern solutions for modern IT challenges
NVIDIA AI Enterprise Software
NVIDIA AI Enterprise is a software suite that enables organizations to harness the power of AI, even if they don't have AI expertise today. Optimized to streamline AI development and deployment, NVIDIA AI Enterprise includes proven, open-sourced containers and frameworks which are certified to run on common data center platforms. With included enterprise support, organizations get the transparency of open source and assurance that the global NVIDIA Enterprise Support team will help AI projects stay on track. NVIDIA AI Enterprise software makes AI accessible to organizations of any size, providing the compute power, tools, and support so organizations can focus on creating business value from AI, not on the AI infrastructure.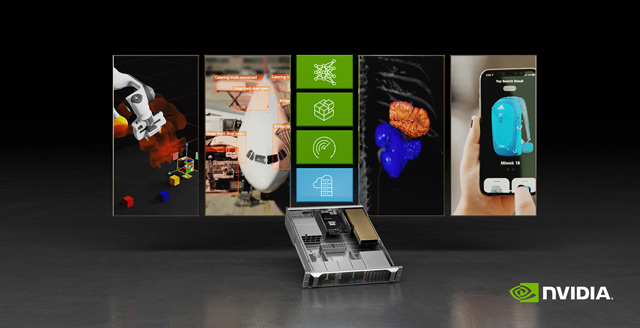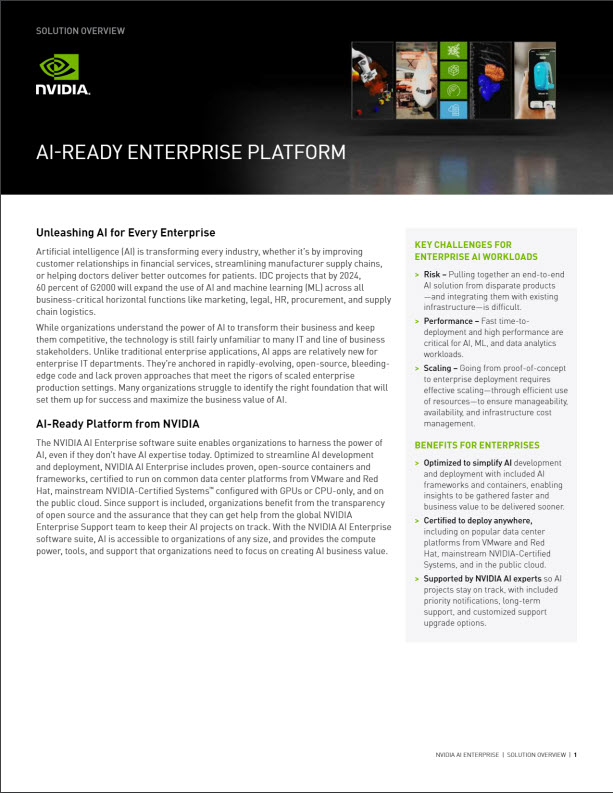 NVIDIA AI Enterprise solution brief
AI-ready Enterprise platform. Unleashing AI for every enterprise with an end-to-end platform from NVIDIA and VMware.
Unlock productivity with GPU-powered virtual desktops, workstations, and apps
NVIDIA virtual GPU (vGPU) technology enables powerful GPU performance from the enterprise data center and public/private clouds to any workload, from virtual desktops to graphics-rich virtual workstations. Installed on a server with an NVIDIA GPU, the NVIDIA vGPU software creates virtual GPUs that can be shared between multiple virtual machines, running on any device, anywhere.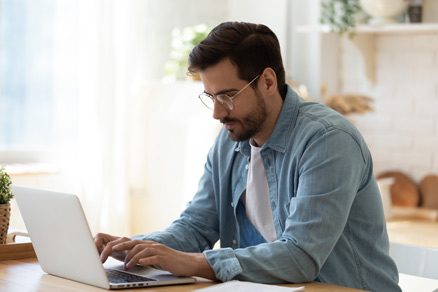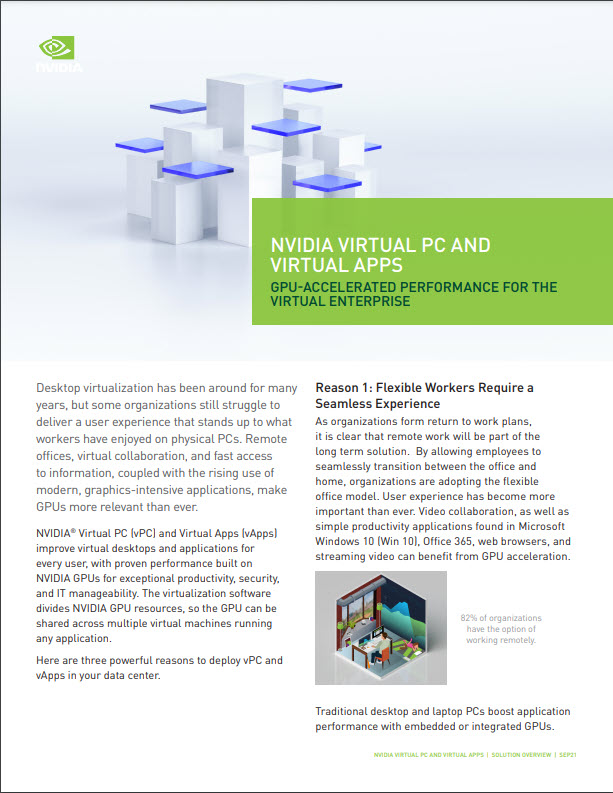 NVIDIA Virtual PC and Virtual Apps
GPU-accelerated performance for the virtual enterprise.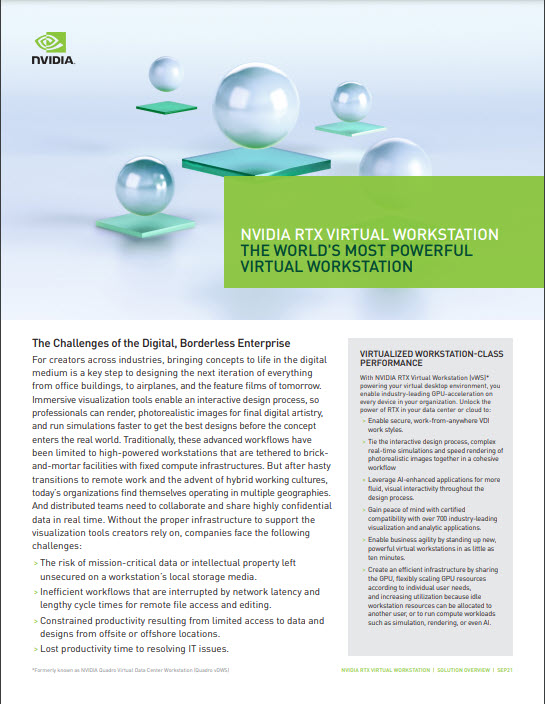 NVIDIA RTX Virtual Workstation
The world's most powerful virtual workstation.
Professional visualization solutions
Deliver workstation-class performance that's accessible on any device, anywhere.
Accelerating the future of design
NVIDIA RTX™ technology is one of NVIDIA's most important advances in computer graphics, ushering in a new generation of applications that simulate the physical world at unprecedented speeds. NVIDIA RTX and NVIDIA Quadro RTX- powered workstations bring the latest in real-time ray tracing, artificial intelligence, and advanced graphics capabilities to millions of design and visualization professionals.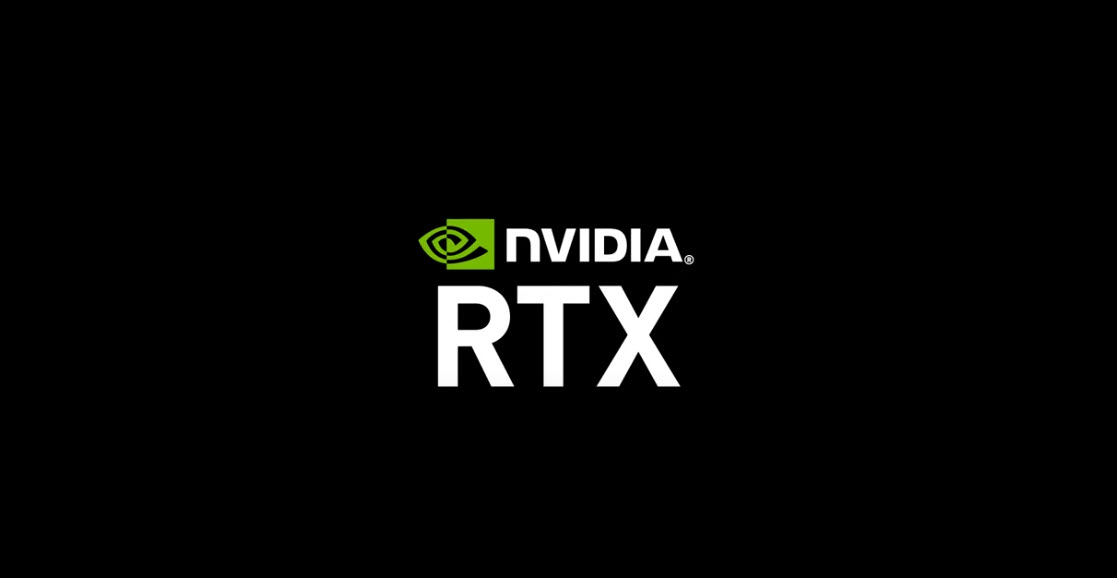 NVIDIA RTX: Bring on Tomorrow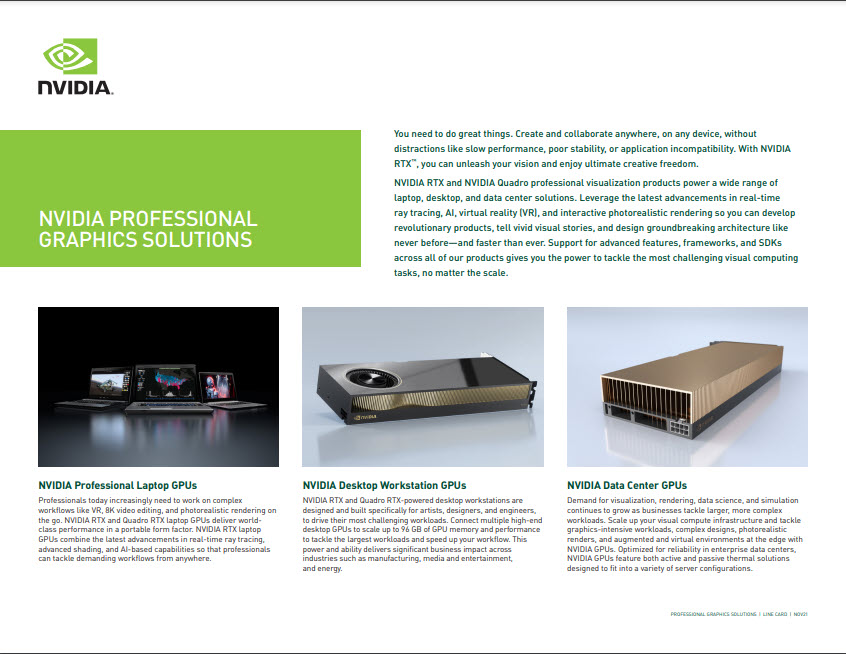 NVIDIA RTX line card
Create and collaborate anywhere, on any device, without distractions like slow performance, poor stability, or application incompatibility.
Real-time architectural visualization
The design, construction, and operation of buildings and infrastructure bring complex challenges. To meet them, architecture, engineering, construction, and operations (AECO) companies worldwide use NVIDIA technologies to optimize designs, mitigate hazards, and collaborate more effectively, even when working remotely.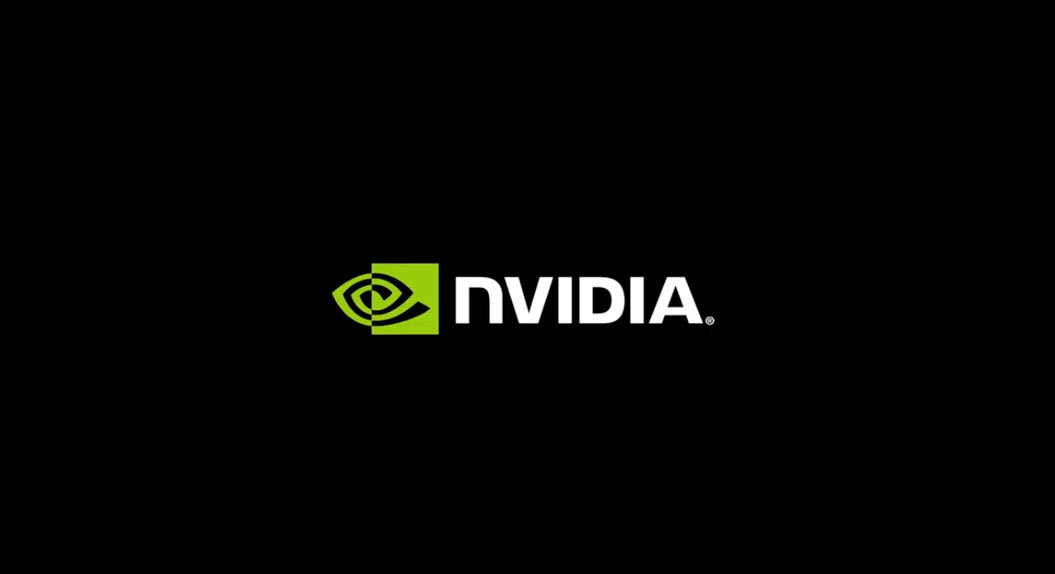 NVIDIA A5500 for Architectural Visualization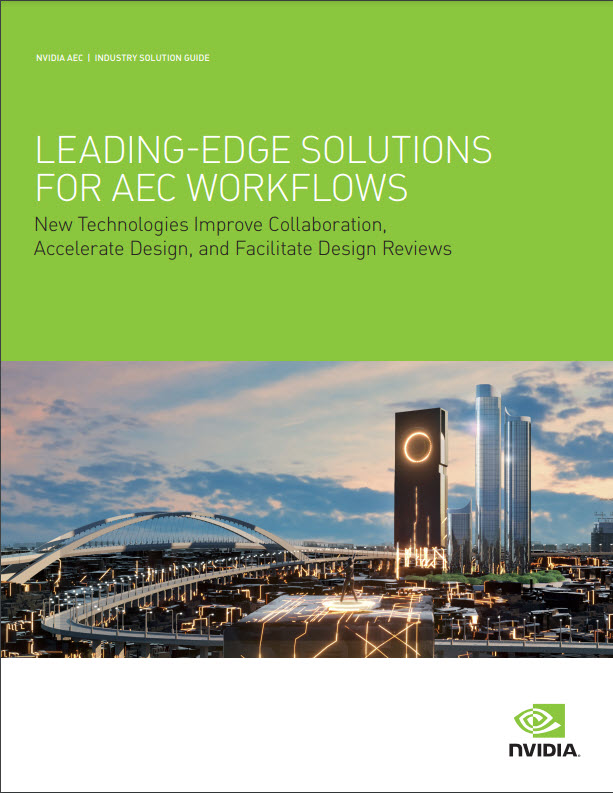 NVIDIA RTX for AECO Industry Solutions Guide
New technologies improve collaboration, accelerate design, and facilitate design reviews.
NVIDIA networking solutions
Accelerating and offloading data transfers effectively to ensure compute resources never "go hungry" due to lack of data or bandwidth.
Ethernet switching solutions for accelerated data centers
The NVIDIA Spectrum™ switch platform delivers cloud-scale efficiency to data centers of all sizes. The NVIDIA® Cumulus® Operational model was built for automating public/private cloud networks, while the NVIDIA Spectrum Ethernet switch hardware delivers exceptional levels of network performance and visibility functionality. Providing cloud-scale fabric validation, NVIDIA® NetQ validates both digital twin and physical networks.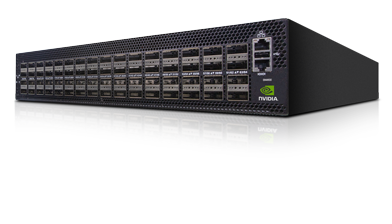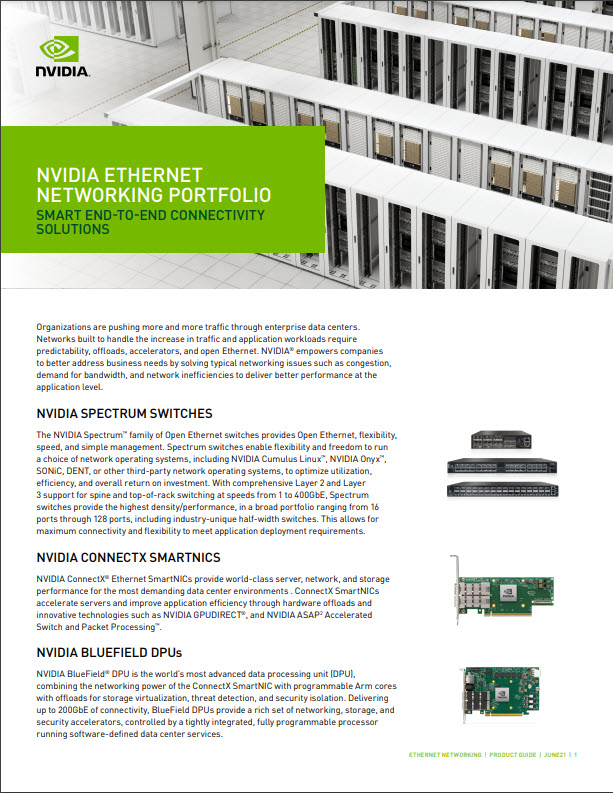 NVIDIA Ethernet networking portfolio
Smart end-to-end connectivity solutions.
Build a secure and advanced cloud with SmartNICs
NVIDIA ConnectX® SmartNICs offer best-in-class network performance, serving low-latency, high-throughput applications with one or two ports at 10, 25, 40, 50, 100 and up to 200 gigabits- per- second (Gb/s) Ethernet speeds.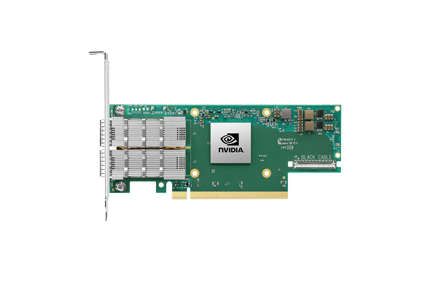 NVIDIA solutions spotlight
Revolutionizing the future of industries with AI
AI in the public sector
NVIDIA DGX A100 offers unmatched compute power and versatility for public sector AI initiatives enabling every agency to get a faster start in AI, distilling actionable insights from the largest data sets and delivering the performance and efficiency needed to complete the mission. Whether for humanitarian response, national defense, or cybersecurity, DGX A100 offers a purpose-built platform for accelerating the complex computational workloads that power AI development, helping your organization transform into an AI-enabled agency.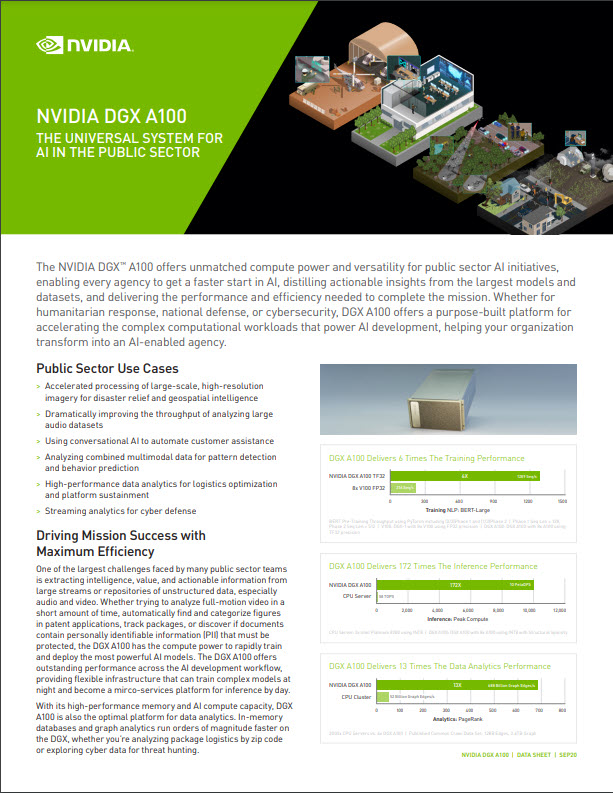 NVIDIA DGX Public Sector brief
The universal system for AI in the public sector
Build an AI- enabled university
Universities are preparing students for an everchanging world and pushing to increase research activities to drive innovation and prestige. To achieve this, many institutions are turning to AI and NVIDIA GPU-accelerated supercomputers, labs, and programs to equip their students, faculty, and researchers with the tools they need to transform the world.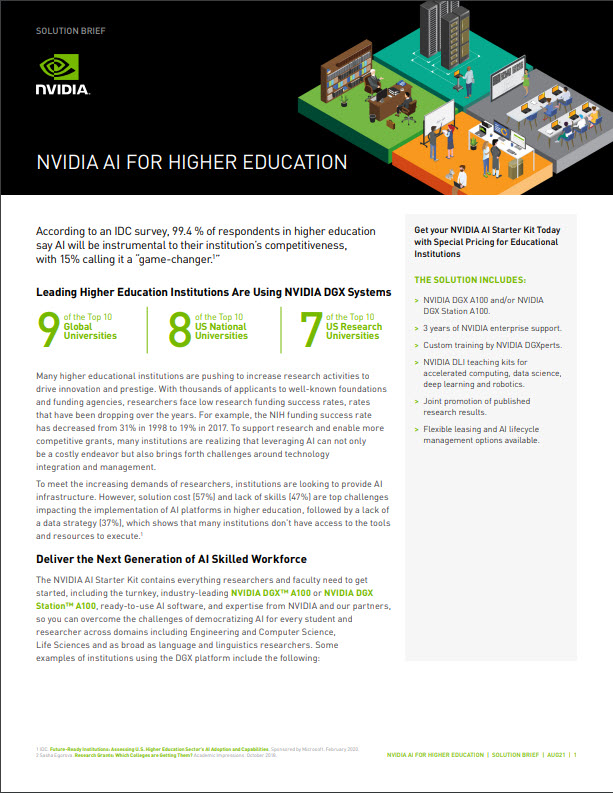 NVIDIA DGX AI Starter Kit brief
Nvidia AI for higher education
Smart hospitals
AI lays the foundation for making smart hospitals a reality. With smart sensors such as AI-enabled cameras and microphones, physicians can improve patient care, improve data security, and advance operational efficiency. AI-powered tools and applications help healthcare facilities strengthen communication, stream,line clinical workflows, and a create seamless patient experience.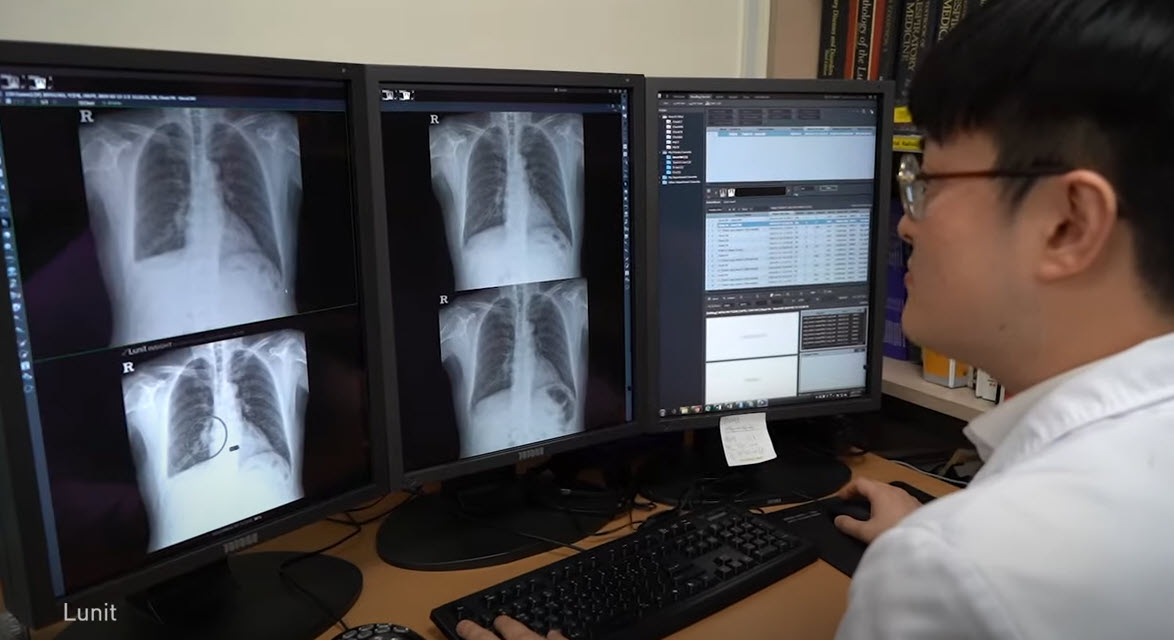 A New Era of Healthcare with AI | I AM AI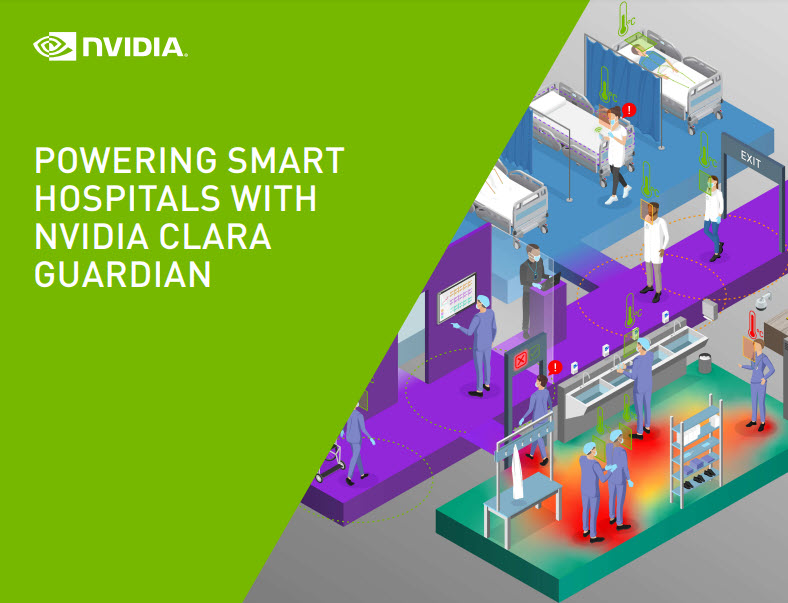 NVIDIA smart hospitals
Powering smart hospitals with NVIDIA Clara Guardian
Ready to Learn More?
Contact us to discuss NVIDIA solutions for your organization.